Dining and Social Canopies at The Pingle Academy in Swadlincote
Posted on 16/03/2021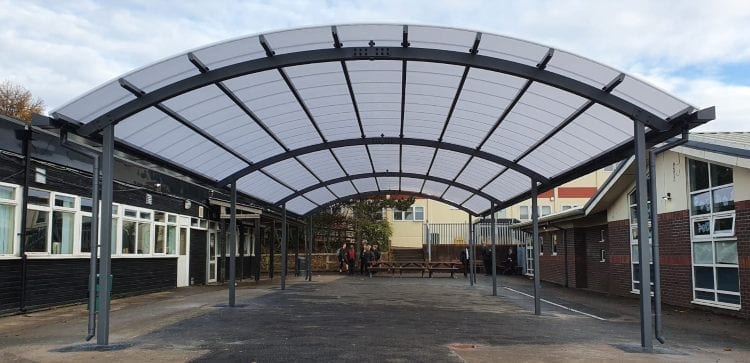 The Pingle Academy in Swadlincote, Derbyshire needed two outdoor dining and social shelters to relieve pressure on their indoor facilities. They wanted something that would suit their budget, look fantastic and benefit students.
What did the project involve?
A&S Landscape added a pair of Motiva Duo™ canopies to The Pingle Academy's outside space. This school – whose students make good progress and achieve good results – chose an 18000mm X 8000mm model to offer lots of dining space, and had another shelter installed in the internal quad along with 24 recycled plastic picnic benches. The Slate Grey steelwork and Opal roofs look wonderfully modern, and the cost-effective dining and social canopies provide covered outdoor areas that children can eat and socialise in throughout the year, which also reduce pressure on their existing dining hall.
Learn more about the dining shelters we installed at The Pingle Academy here.