Covered School Entrance in Ramsgate, Kent
Posted on 16/10/2016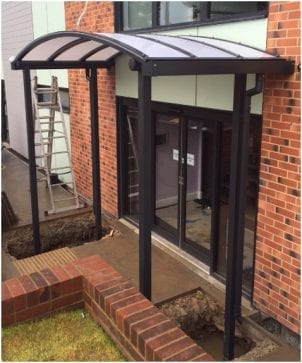 Our compact, precisely engineered Motiva Entro curved roof canopy was exactly the door entrance canopy needed and the smart Black/Grey steelwork and Opal roof (from our roof colours range) perfectly complemented the existing features on the building.
Project – East Kent College LDD Building
Product – Motiva Entro
Requirement – Entrances, they're not just a way in. They're a focal point and make an important first impression. It's vital to always ask, 'What does the building entrance design say about us?'
It's also a symbol. A professional, beautifully engineered entrance says a lot about what's inside.