Canopy with Post Pads at Birmingham School
Posted on 15/06/2014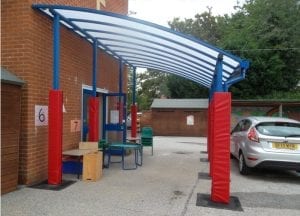 St Alphege C of E School got in touch with A&S Landscape, they wanted a suitable outdoor shelter to provide shelter from the rain and ensure that the area at their entrance was suitable for any weather, all-year-round.
Project – Canopy with post pads – St Alphege C of E School

Product – Motiva Mono
Requirement – Like most things in life, there are items that you would really benefit from but you could just about survive without them.
However, if you take that to the extreme, you can just about survive without needing an Umbrella. It doesn't rain all the time and you can always get away with a little downpour here and there.
But when you say it, it sounds kind of silly, doesn't it?
And yet that's the same situation that many buildings have with outdoor shelters.