Bioclimatic Pergolas
Developing your outside space into a covered terrace for your bar, restaurant or café undoubtedly has numerous benefits. A trendy canopy does not just serve the purpose of wowing your customers with the al-fresco dining experience, it also allows you to expand your capacity – and your business potential. From awnings to shade sails to standard polycarbonate canopies, there are a number of options available when it comes to covered terraces and you need to decide on the canopy option that offers the best solution for your business needs.
One option is our range of outstanding Bioclimatic Pergolas – occasionally known as bioclimatic pergola systems, louvred roofs, retractable awning roofs, shading slats, or slatted pergolas. They can only be described as a high-tech pergola, going above and beyond the typical advantages of the more traditional forms of shelter. These lifestyle canopies allow you to create your very own microclimate, whilst being easy to use, and they look the part too.
What is a Bioclimatic Pergola?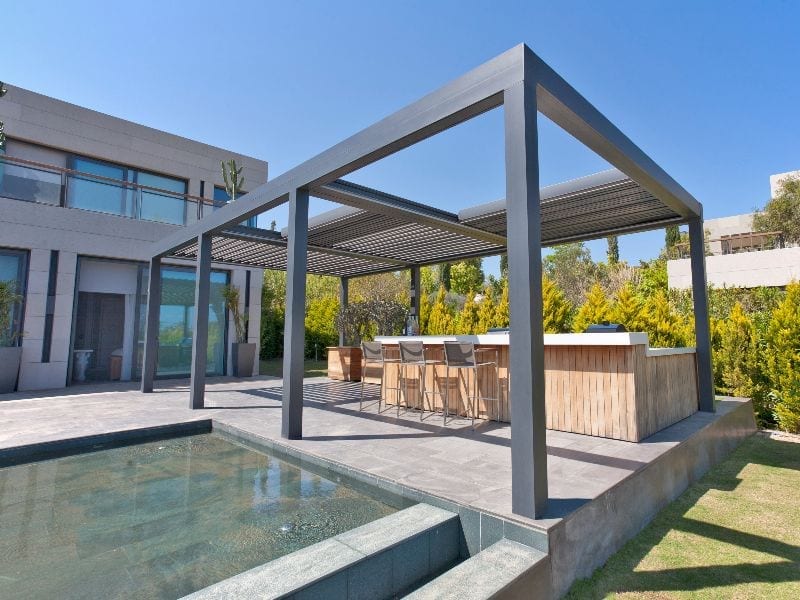 If you're just starting to look into how you can improve the outside space for your business, you may not know much (if anything) about this type of canopy. Bioclimatic Pergolas are defined by their adjustable louvres fitted to the roof, which provide a full weather protection system as well as a natural flow of air.
The adjustable Bioclimatic Pergola works by the rotation of the louvres, which either open fully, open half-way (or to the desired angle) or close fully. Some Bioclimatic Pergolas may only offer two of these settings, whilst others will offer all three.
Opened slightly, the louvres will block out direct sunlight, whilst allowing for a light cooling breeze. When the louvres are fully open, your customers will enjoy the open sky (some Bioclimatic Pergola designs retract their roof the entire way). With the louvres closed – everyone (and everything) inside is protected from the rain, snow or hail. Rainwater will then flow through an integrated drainage system and away from the structure. It is the perfect solution for variable weather conditions.
It's a truly innovative, forward-thinking design, making it perfect for your hospitality business. The Bioclimatic Pergola offers exceptional environmental control both beneath and inside it, meaning it needn't matter what the weather is doing outside – you're always open for business. Made from the highest-quality materials that are durable and versatile – the Bioclimatic Pergola is a bespoke canopy that allows you to make the most out of your outdoor space all year round.
Why Invest in a Bioclimatic Pergola?
There are lots of outdoor structures you can consider when making decisions on what canopy is suitable. A&S Landscape has a range of canopies that serve different purposes – all of which are expertly designed – if you are looking for a structure that provides all of the following advantages, a Bioclimatic Pergola could be the solution for you.
An end to 'weather permitting'!
The Innovative Bioclimatic Pergola Roof System is built to withstand changeable weather conditions, and so you are able to take full advantage of your outdoor space whatever the time of year. Your outdoor area needn't be unused space – you can create a unique atmosphere for your customers, whilst ensuring excellent rain protection. Even on the hottest days of summer, the Bioclimatic Pergola offers an ideal shading solution, blocking out the sun's harmful rays but allowing for a cooling breeze.
Space is becoming an all-important factor for the operation of hospitality businesses – particularly cafes, restaurants, and bars. The Bioclimatic Pergola can help your business operate to a fuller and more-profitable capacity.
They work with nature
Our Bioclimatic Pergolas are designed to harmonise with their surroundings and can transform any outdoor space with minimal intrusion. The adjustable louvres can tilt without losing the essential protection from the sun, making your customers feel like they are sitting outside. The perfect balance really is achievable.
They even use the weather outside to mediate the temperature, cleverly using the natural environment to control the climate.
Noiseless
Energy consumption is particularly low, and the way the technology is built, means they are virtually noiseless when making the transitions from one setting to the other. Unlike the traditional awning – your customers would have no idea of any changes to the roof.
Ease of use
There's no more 'the tall member of staff' having to reach the lever or the frustration of having to constantly retract your canopy because of the changeable weather conditions. Now, you can make these changes (even the subtlest of changes) from just a push of a button using your remote control, it really is that simple. If you want an even higher level of comfort and ease – there is the option to have weather sensors added to the adjustable louvres. These will then open and close automatically, you won't even need to lift a finger.
Customise it for any space
It doesn't matter the size of the space you want to transform; Bioclimatic Pergolas are suitable and made to measure for your outdoor space. They can be attached to one or more walls or be their own free-standing structure – turning an average outdoor space into a beautiful terrace.
Unlike traditional awnings which require a wall to attach to, Bioclimatic Pergolas can be fitted almost anywhere depending on your needs.
LED lights can be added to the sides and the roof
Bioclimatic pergolas bring a luxurious edge and touch to the day, but nothing compares to or is more inviting than an LED lit-up pergola. It is the true definition of cosy, which could add a completely new evening/night element to your business, creating so many more opportunities.
Modularity
A Modular Bioclimatic Pergola presents a number of modular construction possibilities. Integrating perfectly together – the Modular Bioclimatic Pergola design is something you can add to over time.
Why Is it Different to Other Canopy Options?
It is clear to see a few of the benefits a Bioclimatic Pergola can bring, however, what sets them apart from other canopies?
Maintaining Your Bioclimatic Pergola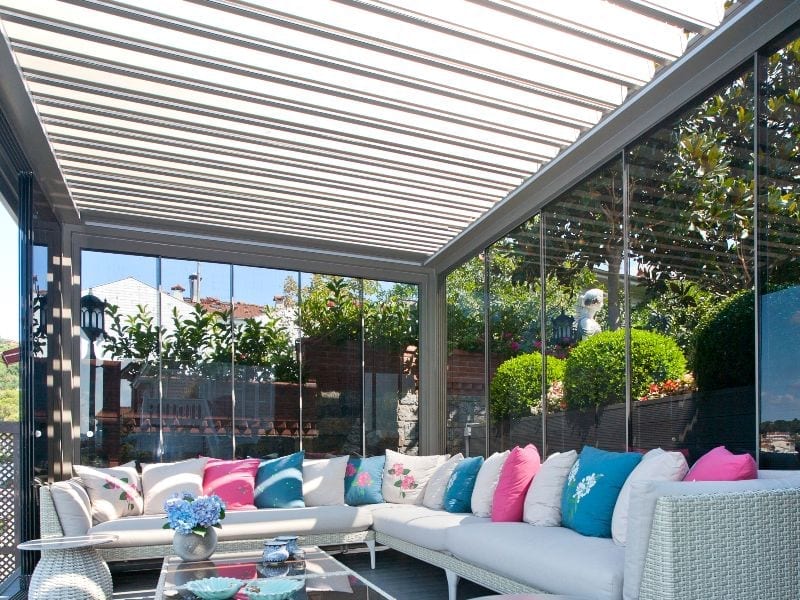 As with all structures, Bioclimatic Pergolas require some maintenance, but it is much simpler, easier, and more effective than that of a woven material awning type product.
Basic maintenance involves the following:
Wash the surfaces with water and soap or a non-corrosive detergent
Ensure that drainpipes are not clogged with leaves
Check on a regular basis that all the parts are still of good condition – i.e. pins, seals etc…
Planning – Preparing for Your Bioclimatic Pergola
Preparation will much depend upon which structure you decide on buying. There are further details lower down about what choices you have when purchasing your Bioclimatic Pergola, but first, here is information on some of the queries you may have.
Location of the structure
Before going ahead, it is worth thinking about what you'd like to achieve.
How many customers are likely to use this at one time?
Would multiple smaller structures work better than one large one?
Is the pergola required where the bulk of socialising takes place, or do you want a more secluded area for enhanced relaxation vibes?
Should the location keep an eye to future expansion?
Can you avoid overhanging trees?
What will the structure do to client flow, should they walk around or through it?
It is possible to integrate the Bioclimatic Pergola into virtually any space available – even for smaller cafes and kiosks. For example, if you have a small alcove which has an enclosed space with three walls, there would be no need for columns as you can quite comfortably use wall-connecting supports. The design is made to aesthetically match your existing architecture, so it doesn't look like an add-on.
When you are marketing your business as being a luxury location to sip a cocktail of an evening, but also targeting the elevenses/coffee/brunch types, you have to think of where the sun will be in the sky. Can you create the perfect environment at all times of day? This problem becomes much less so with a Bioclimatic Pergola, which provides much more flexibility due to the versatile nature of the roof options.
Take the measurements
Once you have decided on the area you can take the measurements, simple length, and width dimensions, along with a photo of the area will help us guide you on the best size of structure.
Do I need foundations for the pergola?
Your pergola will need something to anchor to, if you already have (or are planning) a continuous concrete floor slab of some sort (even if beneath your decking/paving) this may suffice and we can advise on this, alternatively some form of pad foundations will be required.
Does one side of my Bioclimatic Pergolas need fitting to wall?
No – this is entirely your choice if you wish to do so. Bioclimatic Pergolas can be fitted to a wall, or they can be free-standing. They are an adaptable product and can be tailored to suit your needs.
Options and extras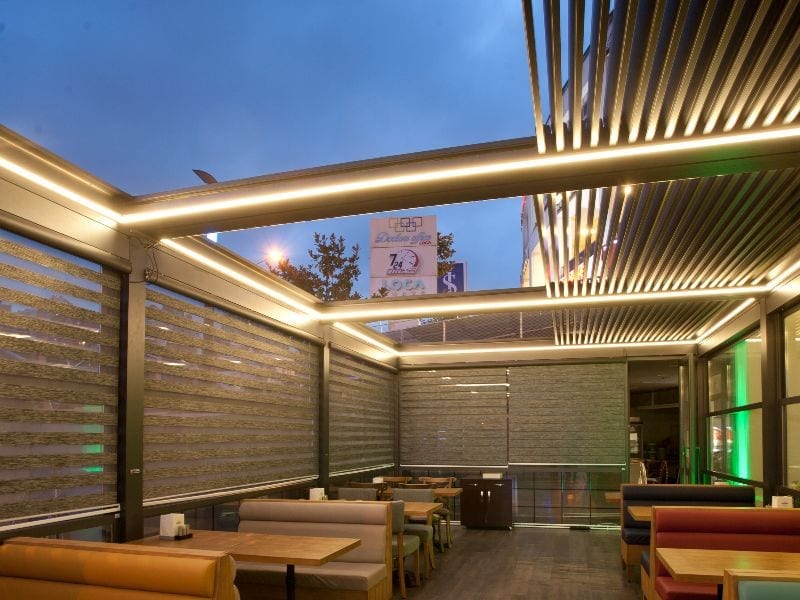 It's important that the design is the right fit for you, your business and your customers – and your canopy has the potential to be a 'hit' for your restaurant, bar, or café, so what better way to make an impression than with some extras that can turn your outdoor space into something more modern and luxury. There are a number of accessories that you can purchase as an add-on to make your Bioclimatic Pergola stand out even further, such as lighting systems and other further enhancements.
There are a number of options available to you to transform your Bioclimatic Pergola into a Luxurious Bioclimatic Pergola, however, some features may not be compatible with others, and some designs may not allow for certain features. So if there's a feature you would like further information about, please do give us a call 01743 444100.
Fabric Side Screens
Although other canopies provide the opportunity of side panels – it's always good to have it as an optional extra. It is possible to install cassette-operated fabric screens between the posts of your Bioclimatic Pergola, zipped together on the side tracks to ensure that your customers are not bothered by the wind. With choices from transparent PVC to an opaque fabric, you still have complete control over the environment that you wish to create – a cosy room, or a sheltered lookout!
Heaters
It's cold, windy and raining – and the storm you can't remember the name of – is quickly closing in. You're a customer and you're looking for somewhere to eat which has a good ambience, is stylish, but most importantly, you can see it is warm.
Bioclimatic Pergolas allow for heaters to be attached to your design; these can add to the unique atmosphere that will draw customers in. There are a number of choices about how they look, and their positioning, so do give us a call on 01743 636176 to discuss the options further.
Glass sliding doors and glass windows
To create a 360-degree, panorama lounge, you can add glass windows or glass sliding doors to your Bioclimatic Pergola. There are a number of choices with glass-sliding doors, from the thickness to the way in which the door operates. The toughened-glass slides along bearings silently, do not require significant maintenance and are resistant to wear.
LED lighting
You are able to purchase a Bioclimatic Pergola design fitted with LED lighting. There are options to add these lights to various locations of the structure, either as strip lights or spotlights. These lights can be operated using a remote control and can either be coloured or white.
Automatic motorised roof
This is a truly luxurious benefit of the Bioclimatic Pergola over other canopies. With a roof that is able to monitor the weather with its own weather sensors – you'll have much more time to tend to your customers. You'll also no longer need to worry about customers advising you that they're getting wet – it's covered.
How Does a Bioclimatic Pergola Compare to a Traditional Awning?
One product that most people have heard of is the traditional awning. Whether this is from summer al-fresco dining, a chic-coffee shop or simply the memory of the awning that accompanied you on every family caravan trip when you were a kid, it is likely that you know about awnings.
The traditional folding arm awning is typically made from a cloth material supported on aluminium 'arms' that extend (fold out) from the wall, often out of a cassette casing affixed to the wall. These units have got less expensive over the years and as almost every local blinds company has entered the market, the increased competition has driven the quality down. The main issue that arises with the awning when used on a commercial venue is interaction with clients who have enjoyed your fine drinks selection over the course of an evening! Whilst vandalism should never be tolerated a high spirited swing on your awning may not be noticed and will leave you with an expensive repair/replacement when you come to notice that the unit won't retract due to the deformed arms. The retraction in itself can be an issue, staff that overlook to do this at closing time leave your awning at the mercy of the wind overnight.
A Bioclimatic Pergola, on the other hand, provides shelter but does not need to be attached to a wall and do not involve any fabric. They are also usually larger and involve uprights to support them.
Are Bioclimatic Pergolas Fully Retractable?
Bioclimatic Pergolas can be fully retractable canopies – but not always.
As referenced above, Bioclimatic Pergolas can have up to three settings – with one of these settings being a fully retractable roof. Those with two settings (closed and louvres open) do not fully retract, and so, therefore, do not quite sit under the category of a retractable sun canopy.
How is a Bioclimatic Pergola Different From a Standard Pergola?
The term pergola has been around a long time and refers to a wide range of structures. A traditional pergola is normally a wooden structure with no roof covering and designed to add feature to a garden, for flowers to climb or to create a place of beauty to sit. Although these products share the same name – they are very different.
Whilst essentially both outdoor structures they achieve entirely different results. Whilst standard wooden pergolas are pretty and aesthetically pleasing, they have little practical benefits, unlike the Bioclimatic Pergola.
Quality – How Long Will a Bioclimatic Pergola Last?
Maintenance is essential for whatever product you buy to ensure that it lasts, and it maintains its function as a canopy. By purchasing a Bioclimatic Pergola, there are two of the traditional issues you will avoid: –
The musty smell of an old awning – Unattractive, unhygienic, and left too long, the musty smell of the old awning is not something customers will want to return to.
Sun-bleached awning/parasol fabrics – have you ever seen the parasols that appear year after year, lighter and lighter each time? This isn't an aesthetically pleasing look – and it's one that can be avoided. The aluminium Bioclimatic Architecture does not discolour in the sun.
The Bioclimatic Pergola boasts an integrated drainage system, so there is no need to worry about the impact that the UK's changeable weather conditions may have.
You may find there is condensation on the inside of the pergola in the early morning due to the difference in temperature – but as soon as the air is ventilated, this will soon disappear ready for your customers.
Purchasing a Bioclimatic Pergola
A&S Landscape is able to help you with the entire process from start to finish. From help with the design, all the way to installation, we are here to offer our expertise on our retractable pergola canopy uk range.
Here at A&S Landscape, we've had over 44 years of experience keeping your outdoor covered. We're an independent, family-run business based in Shrewsbury who continue to provide the highest-quality products in the canopy market, whilst not losing our connection to the same principles we followed back in 1976.
With our knowledge of the industry, we know exactly what questions you need answering before you embark upon your canopy project.
Do you come to site?
Yes – we can offer you a site visit. Once you have an idea of what you would like and we have discussed options and budgets, we can arrange for a member of the team to come and take measurements and make recommendations.
Do you help with the design?
Yes – after the site visit, we can create a design for you using the measurements taken. We will keep you involved through all steps of the process and will not start work until you confirm you are happy with the design that we have created.
What is the lead time?
From the date of the confirmed order, there will be a manufacture period, the length of this depends on multiple factors including the exact product, size, specification but also the time of year. Please enquire about this for more specific advice when you speak to us.
How long will installation take?
For most canopies, we can complete the installation within a week, however, this may vary depending on your design, the size, access, complexity and associated works – once we have an agreed design, we would be able to advise you of a more accurate time frame.
Will my business be operational whilst installation is taking place?
We will be able to discuss this at the site visit; however, this will depend on the location of the structure. We will endeavour to minimise the interruption to the normal operation of your business.
What after-sale services do you offer?
We will ensure that you are well-informed of how to maintain your structure, informing you of how to undergo a periodic check and clean. We also offer cost-efficient maintenance packages, which will include check-ups, maintenance, and cleaning. You can find more about this here.
What warranty do you offer?
Our warranties are the longest in the market, the specific length of the warranty will vary with the exact design chosen, so it is best to discuss this with us in the context of your overall enquiry
If you would like to make an enquiry or have any questions, please do give our sales team a call on 01743 444100 or email [email protected]. If you have pictures or measurements of the area in which you would like the canopy to go – you can send these too and we will gladly talk you through your options.