St Bede's Inter-Church School in Cambridge Add Playground Shelter
Based in the beautiful Cambridgeshire countryside, St Bede's Inter-Church School has a wide range of facilities it offers the students. The staff wanted to keep improving the school by getting more use out of the outside areas.
Project Specification
Product:

Motiva Linear™

Size:

7160mm x 6000mm

Steelwork:

Slate Grey - RAL NO. 7015

Roof:
A&S Landscape added a straight roof shelter at the school, measuring 7160mm x 6000mm. The Motiva Linear is finished with Slate Grey steelwork, which gives the canopy a sleek, modern look. This works perfectly with the Opal and Moondust polycarbonate sheets used on the roof. There is plenty of room underneath to place some benches and tables, creating a covered seating area.
Everyone at St Bede's Inter-Church School is thrilled with the new shelter. The newly created covered space can be used during break and lunchtimes as a social area. This gives the students a dedicated space they can use throughout the year to enjoy some fresh air during the day.
The teachers could use the area as an alternative learning environment. This would help to engage the students and create a memorable and fun lesson. The weather will never spoil another class again! Equipment could also be stored outside under the canopy, saving space inside the school buildings.
Why we should encourage children to play outdoors and how we can do so
Health is negatively affected by not getting enough exercise, producing increasing rates of obesity in children and adolescents. Children are not playing outside as much as they have done in the past, curbing their exposure to sunlight and thus the generation of Vitamin D which helps to battle infection and keeps skin healthy. Sunlight also helps to manage the formation of melatonin which regulates sleep. Phones and tablets emit harmful blue light, which can cause headaches and eye strain. Blue light in the evenings can even restrain the development of melatonin, which in turn can make going to sleep very difficult for some children.
So what is the answer to this slippery slope that we find ourselves on… More time outside!
Discover how schools can help their students spend more time outside here.
For over 40 years we've been working with schools to transform their outside spaces. Our versatile products suit a range of applications, from playground shade sails to covered dining areas. Take a look through our gallery to get inspiration for your project. Or you can talk to a member of our friendly team on 01743 444100.
Take a look at the other canopies we have installed across Cambridgeshire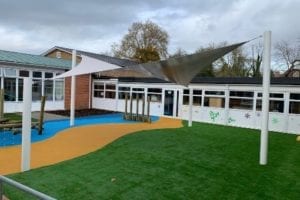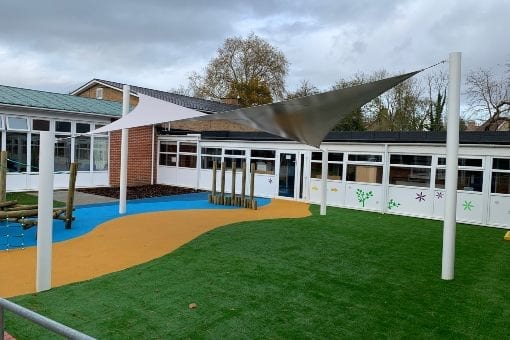 Stapleford Primary School Add Playground Sail Shade
Working alongside the specialist building contractor we erected a sail structure for Stapleford Primary School Cambridge, Cambridgeshire. The full contract involved one 6000mm X 6000mm Maxima™ tensile waterproof fabric sail structure comprising one sail on 4 uprights including for all stainless steel fixtures and fittings.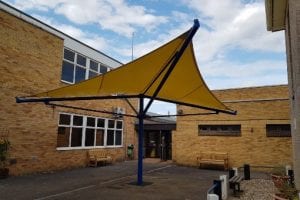 Bright Yellow Sail Shade Installed at City College Peterborough
We built a StarSail for City College Peterborough Western Avenue, Peterborough, Cambridgeshire. The contract included the supply and fitting of one Maxima™ StarSail tensile waterproof fabric structure supported on a single upright measuring 6000mm X 6000mm.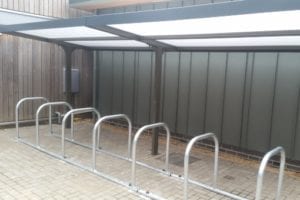 Secure Bike Shelter Designed for Jesus College, University Of Cambridge
We created a cycle store for Jesus College University Of Cambridge Jesus Lane, Cambridge, Cambridgeshire. The contract included one Cyclo 'City' cycle store unit measuring 5500mm x 2000mm.
Curved Roof Shelter Created for North Witchford Lodge
Working for our building contractor client A&S created a curved roof canopy at North Witchford Lodge Wimblington, March, Cambridgeshire. The full contract involved one Motiva™ Duo duopitch curved roof canopy measuring 4800mm X 3200mm and included for our Alu-Tuff™ aluminium box profile guttering and downpipes which were coated in a matching Dura-coat™ colour finish.