Roman Way First School in Hertfordshire Add Modern School Playground Canopy
With such a smart school building, adding a canopy to complement was a lovely project to undertake. Roman Way First School in Royston, Hertfordshire, had a large, enclosed playground area which is now very well used because of its new school canopy.
Project Specification
Product:

Motiva Cantilever™

Size:

19000mm x 2750mm

Steelwork:

Slate Grey - RAL NO. 7015

Roof:
The school say of themselves, "Roman Way First School has a clear understanding of how children learn and continually work to provide the best possible conditions to facilitate this." They certainly had this in mind when they invested in a canopy which shelters and shades their pupils, adding more opportunity to learn and play outdoors.
The canopy follows the line of the school building and gives them space to store toys and equipment as well as making sure that they can play outside no matter what the weather. Just to have somewhere to store all those wet wellies when the children come indoors, must have made a big difference.
A&S Landscape worked with the school to decide on the best product for the new school canopy. Our Motiva range has a cantilever straight roof canopy which followed the line of the building to provide shelter right around the courtyard play area. Children love to be outdoors as we know and now they don't have to worry about the weather. They also have space to store their wellies when they come inside, no more soggy classroom carpets.
What Are The Benefits Of Outdoor Learning and How Can Schools Achieve This
There are a plethora of benefits of learning outdoors which help students as well as staff. A consideration that is usually discounted is the teacher's enjoyment of teaching lessons and how the option to teach outside can be just as enthralling for them as it is for pupils. Being in an outdoor environment is healthy and creates positivity for teachers which is usually emulated in their lessons and the way they teach. If a teacher is uninspired, that sparseness of excitement can carry over into their lessons but putting them in contact with nature can completely alter the way they picture teaching.
A cheerful teacher is a effective teacher and one that is enthusiastic about educating children. Introducing a shelter into a school gives both teachers and children a opportunity to explore this together and brings with it a positive sense of freedom. Increasing engagement in school is something every teacher is looking to do and with an outdoor shelter from A&S Landscape, it's made much simpler. The more captivated students are with their learning, the more their skills advance and the more confident they become in their abilities.
Click here to read more about the varied benefits of learning outdoors.
The canopy has created shade and shelter so that the children can play and learn outdoors all year round. Also, the option to store materials and toys away from the weather means that more space has been made available inside. The playground area looks really smart too, the grey steelwork complements the school building and completes the space beautifully. A really lovely design.
There are many different designs available, all in high-quality materials. These range from, Umbrellas and Tepees, to straight or curved roof steel canopies. A&S Landscape has a range which is sure to offer you something special. Feel free to look through our gallery, which has more than 1500 images to inspire you.
Have a look at some of the other canopy projects we've completed in Hertfordshire
Sail Shade Structure Installed at Tudor Primary School
In combination with an authorised reseller we built a sail structure at Tudor Primary School, Hemel Hempstead, Hertfordshire. The full contract involved one 10000MM x 5000mm Maxima™ tensile waterproof fabric sail structure comprising of two square sails on six uprights including for all stainless steel fixtures and fittings.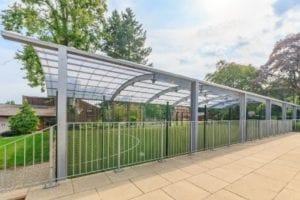 Haileybury College Add Cover to Multi Use Games Area
A&S designed a dryMuga canopy for Haileybury, Hertford, Hertfordshire. The contract included one Motiva™ drymuga™ duopitch curved roof sports canopy measuring 32000mm X 13200mm including for steel guttering and downpipes, 868 twin wire rebound fencing, complete with built-in five-a-side football goals and a basketball hoop. We also carried out the surfacing with the supply and lay of real Turf 'Colours' curled anti-static sports turf to the pitch area and supply and inlay of white lines for layout showing five aside football/ hockey markings all onto a schmitz Proplay MP interlocking re-cycled polyethylene foam shock-pad.
Secure Buggy Shelter Installed at Marsworth CE Infant School
Our engineers created a cyclo buggy store in Marsworth CE Infant School, Marsworth, Tring, Hertfordshire. The job involved one Cyclo 'Buggy' measuring 5000mm X 2400mm.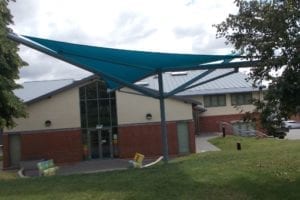 Bishop's Stortford College Add Blue Fabric Sail Shade
Our engineers erected a StarSail in Bishop's Stortford College, Bishops Stopford , Hertfordshire. The contract included the supply and installation of one Maxima™ StarSail tensile shadecloth fabric structure supported on a single upright measuring 7000mm X 7000mm.
Sail Shade Structure Designed for Gilah Nursery School
In collaboration with our trade partner our team erected a sail structure for Gilah Nursery School, Elstree, Hertfordshire. The job involved one 6000mm x 6000mm Maxima™ tensile shade cloth fabric sail structure comprising of one square sail on four uprights including for all stainless steel fixtures and fittings.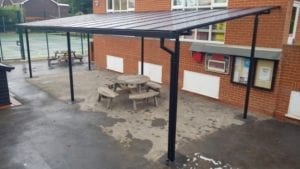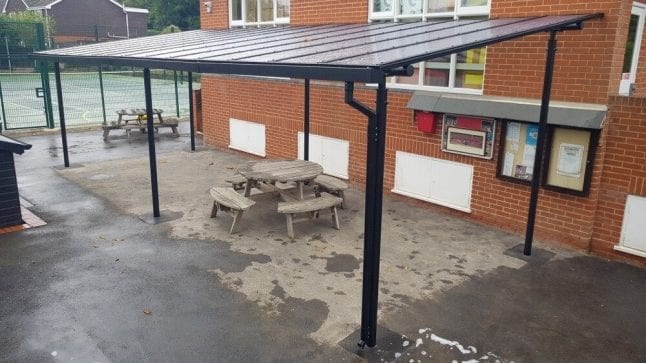 Black Play Area Shelter Installed at St Hilda's School
Our team produced a straight polycarbonate roof canopy at St Hilda's School, 28 Douglas Road, Harpenden, Hertfordshire. The contract included the supply and installation of one Motiva™ monopitch straight roof canopy measuring 9600mm X 2981mm complete with Alu-Tuff™ aluminium box profile guttering and downpipes which were coated in a matching Dura-coat™ colour finish.
Bespoke Tepee Structure Designed for Millfield First And Nursery School
Our engineers built an Elipse tepee structure in Millfield First And Nursery School, Buntingford, Hertfordshire. The full contract involved the supply and fitting of one Maxima™ Elipse tensile waterproof fabric roof structure measuring 7500mm X 5000mm with splashplate and leg extensions to increase the height of the canopy.