Secure Cycle Store Installed at Jesus College
Jesus College at the University of Cambridge is an inspiring place. Here, they're committed to academic excellence and offer talented students, whatever their background and means, the opportunity of an amazing system of education.
Project Specification
Product:

Cyclo City™

Size:

5500mm x 2000mm

Steelwork:

Grey Brown - RAL NO. 8019

Roof:
They care; about their students, about their education and about their experience.
And because of that, when they came to A&S Landscape looking for secure cycle storage it was because they knew that ours is some of the most robust in a market that has become flooded with flimsy and inexpensive options.
We installed our signature Cyclo 'City' at 5500mm x 2000mm and finished it in smart grey steelwork (RAL 7013) with opal roofing that cuts out direct sunlight in the hot Summer months.
Jesus College was delighted with their new, safe cycle racks, making it clear that they would work with A&S Landscape again!
"The project went well, the cycle store is very nice and A&S Landscape were very polite and courteous, all in all very good. We would look to use them again."
Headteacher – Jesus College, University of Cambridge
If you are also looking for secure cycle racks for schools, then we have some of the most robust products on the market that not only look great but perform well too. We manufacture our Cyclo 'City' with a 120mm x 80mm steel frame that means when you lock your bicycle up, it stays locked up.
You can find out more about our Cyclo 'City' range here and if you have any questions at all, just get in touch.
What can schools and parents do to encourage children to cycle to school and what are the benefits of doing so?
Parents named fears over road safety as one of the obstructions to cycling to school, so projects like 'Bikeability' where school children learn the basics of road safety are a pivotal step in preparing pupils for the cycle to school. Trying out the route at the weekends when the streets are likely to be less busy is also good preparation.
Carry on reading to learn more about how schools can encourage their students to cycle to school.
See more of our projects we have completed in Cambridgeshire
North Witchford Lodge Add Curved Roof Canopy to Site
Working alongside our building contractor client our engineers made a curved roof canopy in North Witchford Lodge Wimblington, March, Cambridgeshire. The contract included one Motiva™ Duo duopitch curved roof canopy measuring 4800mm X 3200mm and included for our Alu-Tuff™ aluminium box profile guttering and downpipes which were coated in a matching Dura-coat™ colour finish.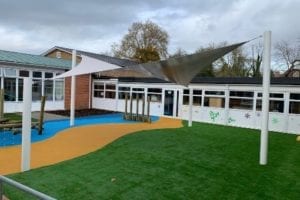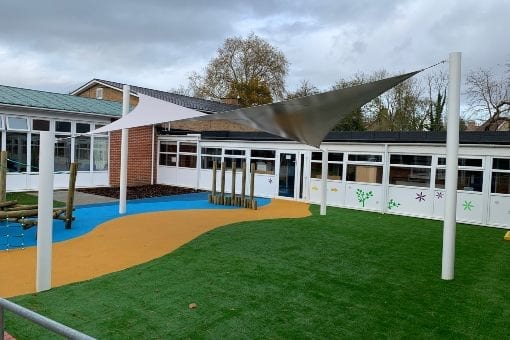 Playground Sail Shade Installed at Stapleford Primary School
Working with the specialist building contractor we created a sail structure for Stapleford Primary School Cambridge, Cambridgeshire. The full contract involved one 6000mm X 6000mm Maxima™ tensile waterproof fabric sail structure comprising one sail on 4 uprights including for all stainless steel fixtures and fittings.

Yellow Shade Sail Fitted at City College Peterborough Campus
Our team built a StarSail for City College Peterborough Western Avenue, Peterborough, Cambridgeshire. The job involved the supply and fitting of one Maxima™ StarSail tensile waterproof fabric structure supported on a single upright measuring 6000mm X 6000mm.